What is a crown Hair Transplant?
In comparison to other hair treatments like PRP, stem cells, etc. A hair transplant is a permanent hair restoration method that offers patients greater outcomes. Crown Hair Transplant helps clients in regrowing lost hair (crown area by placing hair directly on the vertex of the head. It is most appropriate for males who have Norwood scale stage 3 hair loss.
Artistic vertex design offers several advantages. Here is a list of a few of them:
Provides those suffering from hair loss with long-lasting and natural results.
Restores hair growth in the scalp's bald spots
Helps in achieving a natural and attractive aesthetic appearance for the scalp
The surgeon's primary responsibility throughout the process is to pinpoint the precise spot and angle where the hair has to be inserted; otherwise, the results won't seem natural. The surgeon begins the process by selecting an appropriate hair growth pattern based on the location where hairs need to be implanted and the patient's personality.
Similar to the transfer of tradition, artistic vertex design includes two stages:
1. Grafts harvesting phase
2. Grafts transplantation phase
The surgeon can remove healthy follicular units from the donor location using FUE or FUT for transplantation. The recipient location is precisely defined so that, while preparing the crown area for planting, the angle of each and every graft to be transplanted is taken into consideration.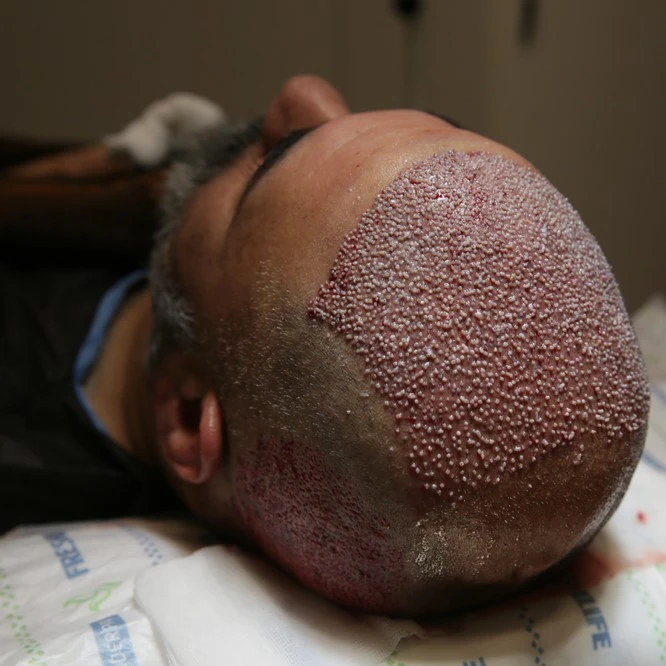 The transplanted hair will fall out after a few days, and new hairs will begin to grow in the crown region. Final outcomes might take up to a year to become apparent, however significant effects can be observed after three months. For the greatest possible treatment outcomes, 2000–3000 grafts are adequate. Because it helps you grow hair in accordance with a designated crown design, artistic vertex design hair transplant outcomes are superior to regular transplants.
crown Hair Transplant
Starting From
Crown Hair Transplant cost in Riyadh can vary from person to person and from procedure to procedure depending on the number of sessions required. Fill in the Form to get an exact quote!
What are the side effects of a crown hair transplant?
Side effects include a tight, painful, and swollen scalp. Transient scabbing at the transplanted hair site, a single scar or several extremely little scars.
How long does the crown take to grow after a hair transplant?
According to reports, hair that has been inserted in the crown may take a bit longer to grow; on average, it takes a full year and, in rare circumstances, as long as 18 months for the hair to fully develop. The recipient area will take approximately a week or two to look to be reasonably well healed after a crown treatment.
Is a crown hair transplant painful?
The pain experienced following a hair transplant varies; some individuals may only have soreness for one or two days, while others may experience considerable discomfort for a week or more. You may feel some soreness for a longer period of time since, generally speaking, the more grafts you have, the longer it takes to recover.