Are you looking for a skincare treatment that will leave your skin glowing, refreshed, and revitalized? Look no further than our Best Hydrafacial treatment in riyadh. This innovative and non-invasive procedure combines the power of hydradermabrasion, chemical peels, and extractions to gently and effectively cleanse, exfoliate, and hydrate your skin.
If you're looking for a non-invasive and effective skincare treatment that will leave your skin feeling refreshed and revitalized, book your Hydrafacial appointment at Enfield Royal Saudia today!
Hydrafacial is a non-invasive, multi-step skincare treatment that utilizes hydradermabrasion, chemical peels, and extractions to cleanse, exfoliate, and hydrate the skin. 
The procedure involves using a unique device that gently removes impurities and dead skin cells while delivering nourishing serums into the skin. 
Hydrafacial Riyadh is suitable for all skin types and can address a variety of skin concerns, such as fine lines and wrinkles, acne, hyperpigmentation, and uneven skin texture.
HydraFacial Treatment Procedure
The steps of the Hydrafacial procedure are:
Cleaning: Makeup, oil, and other pollutants are fully removed from the skin.
Exfoliation: To eliminate dead skin cells, a light exfoliation is used.
Extraction: The removal of skin impurities like whiteheads and blackheads.
Hydration: To restore the skin's lost moisture and nourish it, a hydration serum is administered.
Antioxidant defense: To protect the skin from free radical damage and enhance its general health, an antioxidant serum is applied.
Depending on the patient's skin type and the extent of the procedure, the Identify structural treatment usually lasts 30-45 minutes.

The duration of a Hydrafacial treatment depends on the patient's skin type, skin issues, and desired results. Although most people get results after just one treatment, it is advised to undergo a course of sessions for the best outcomes. A typical Hydrafacial treatment series includes one treatment per week for six to eight weeks.
Areas that can be treated with Hydrafacial
The following list of places that HydraFacial can treat:
Face

Neck

Hands

Back

Arms

Legs

Feet
Note: "Depending on the individual's skin type and specific treatment objectives, the specific areas that can be treated with HydraFacial may change. To choose the best course of action, it is advised to speak with a skincare expert."
Hydrafacial Treatments in Riyadh
The most popular Hydrafacial Riyadh procedures includes:
Hydrafacial Lymphatic Drainage Treatment
This procedure aims to encourage lymphatic drainage and lessen facial bloating and swelling. The lymphatic system, which is in charge of eliminating waste and extra fluid from the body, is stimulated by this mild massage.
Hydrafacial Dermabuilder Treatment
The Hydrafacial Dermabuilder Treatment aims to combat the indications of ageing and restore the skin's natural youthfulness. Deep washing, exfoliation, and hydration are all steps in the regimen. A serum called dermabuilder is then applied to the skin to increase firmness and elasticity.
Connective tissue growth factor
Connective tissue growth factor, or CTGF, is a potent growth factor that helps to increase the suppleness and firmness of the skin. Hydrafacial CTGF Treatment. This procedure aims to enhance skin renewal, lessen the visibility of fine lines and wrinkles, and enhance skin tone and texture.
The goal of the hydrafacial resurfacing procedure is to improve the texture and tone of the skin. A resurfacing serum that aids in removing dead skin cells and promoting skin cell turnover is applied after a deep washing and exfoliating procedure. For people who have uneven skin tone, fine lines and wrinkles, and sun damage, this procedure is great.
There is no need for surgery or incisions with a hydrafacial procedure. For individuals with sensitive skin or those who are wary of more harsh treatments, this makes it a safe and gentle solution.
The Hydrafacial technique does not include any discomfort or agony before, during, or after the operation. Since there is no need for pain control, it is a desirable alternative for those seeking a painless face rejuvenation procedure.
Personalized Skin Analysis
The HydraFacial procedure in Riyadh begins with a thorough skin analysis during which the expert will evaluate the patient's skin type, state, and specific requirements. The therapy will be tailored to provide the most advantages based on the results of this investigation.
The HydraFacial procedure thoroughly cleanses the skin by clearing out the pores of pollutants, debris, and oil. This aids in pore cleaning and acne prevention.
The HydraFacial procedure hydrates the skin, giving it a plumper, more radiant appearance. Antioxidants, vitamins, and other nutrients nourish the skin and give it a younger, healthier appearance.
Reduces Fine Lines and Wrinkles
By encouraging the creation of collagen, which is crucial for maintaining youthful-looking skin, the HydraFacial treatment helps to reduce fine lines and wrinkles.
The procedure is quick and simple, and there is no recovery period afterward. As a result, you may resume your regular activities immediately.
The HydraFacial procedure is a cost-effective and efficient way to enhance the look and health of your skin.
Finding the Right Spa for Hydrafacial in Riyadh
You can use the following steps to locate the ideal spa for best Hydrafacial Treatment in Riyadh:
Ask for Referrals: Consult with friends, relatives, or coworkers to find out whether they have ever received a Hydrafacial and if they have any recommendations for spas.


Check Online Reviews: To learn more about the reputation and experience of the clinic, read online reviews on sites like TripAdvisor, Google, or Yelp.


Check the spa's website or give them a call to find out if they provide Hydrafacial treatments and what other services they provide.


Investigate Certification: Examine the clinics certifications with a reputable beauty group, such the International HydraFacial Association.
Preparing for Your Hydrafacial Treatment
Here are some suggestions to assist you in getting ready for your first Hydrafacial in Riyadh:
Make sure to completely wash your skin before the treatment to get rid of any makeup, oil, or grime.
For a few days before the treatment, stay out of the sun. Skin that has been exposed to the sun is more sensitive.
Waxing and other procedures should be avoided a few days before the Hydrafacial. This includes laser hair removal, chemical peels, and waxing.
Hydrate: To keep your skin hydrated during and after the treatment, drink a lot of water.
Arrive without makeup: For the greatest results, arrive without any face lotions, oils, or makeup.
Hydrate: To sustain the results of the Hydrafacial treatment, drink lots of water and keep your skin hydrated.
Avoid Direct Sunlight: To prevent sunburns, stay out of the sun for at least 24 hours after receiving treatment. When outdoors in the sun, wear a broad-spectrum sunscreen with an SPF of 30.
Avoid Touching Your Face: After the treatment, try not to touch or massage your face too much. Redness, irritation, or outbreaks might result from this.
Avoid Heavy Activity: Heavy exercise should be avoided for at least 24 hours following treatment as it may increase perspiration and irritate the skin.
No Makeup for 24 Hours: To give the skin time to recover from the treatment, avoid wearing makeup for at least 24 hours.
Here is a list of typical Hydrafacial side effects:
Mild swelling and redness are common adverse effects of the thorough washing procedure. Usually, it passes within a few hours.


Occasionally, the deep cleaning procedure might lead to breakouts, especially in those with sensitive skin.


Bruising: A few individuals could develop minor bruising at the treatment region. This bruising should go away in a few days.


Itching, redness, or hives may be caused by an allergic reaction to a substance used in the therapy in certain individuals.


Infection: The danger of infection increases if the skin is not thoroughly washed before treatment or if the equipment is not properly sanitized.
Improved Skin Tone and Texture: The intensive washing and exfoliating techniques used in hydrafacials lead to smoother, brighter, and cleaner skin.
Reduced Fine Lines and Wrinkles: Hydrafacials' moisturising and nourishing effects plump up the skin and lessen the visibility of fine lines and wrinkles.
Clearer Pores: The Hydrafacial's thorough cleaning procedure aids in unclogging pores by eliminating pollutants and shrinking their size.
Improved Hydration: Hydrafacials increase the skin's degree of hydration, making it seem hydrated and rejuvenated.
Enhanced Skin Radiance: Brighter, more radiant skin is the consequence of combining deep cleaning, exfoliation, and hydration.
Reduced Acne and Outbreaks: By eliminating impurities and supporting healthy skin, hydrafacials can help minimize acne and breakouts.
Cost of HydraFacial in Riyadh, Saudi Arabia
The high satisfaction of our clients is not merely due to the expertise and professionalism of our staff but also our moderate cost. The prices are optimal and affordable, but the final cost is calculated individually in each case.
At Enfield Royal Saudia, Cost of Hydrafacial  in Riyadh starts from SAR 599 to 700SAR. Our clinic offers the most reasonable and alluring pricing. You must schedule a free first consultation with our skin specialists in order to receive a final price.
HydraFacial
Starting From
How many hydrafacial treatments do I need?
Depending on your particular skin issues and objectives, you may require a different number of HydraFacial treatments. For optimal results, it is advised to have a minimum of 4-6 sessions spaced 2-4 weeks apart.
Is hydrafacial permanent?
Because HydraFacial is not permanent, results will need to be regularly maintained.
Is hydrafacial good for pores?
Yes, HydraFacial works well at lessening pore appearance and enhancing skin texture. To cleanse clogged pores and leave the skin appearing smoother and cleaner, it employs thorough cleaning, exfoliation, and hydration.
Does hydrafacial remove hair?
No, hair cannot be removed using HydraFacial. It is a procedure for skin resurfacing intended to enhance the skin's look and health. It is advised to consult a dermatologist or professional esthetician for additional treatment options if hair removal is required.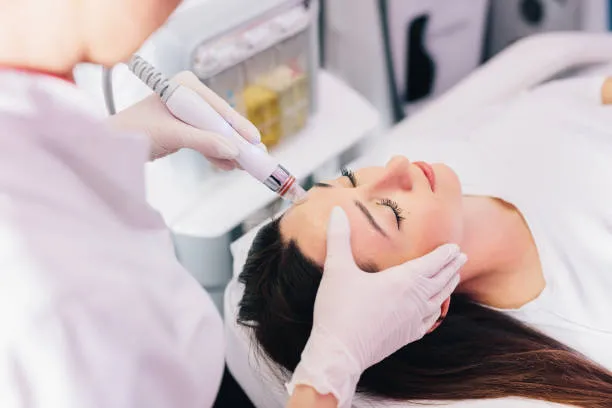 In the world of dermatology, achieving bright and youthful skin isn't a dream anymore. If you are looking for a proper skincare treatment that helps rejuvenate your facial skin, you have arrived at the..