Are you troubled by dark spots, melasma, or uneven skin tone? Say goodbye to pigmentation woes and embrace the beauty of luminous skin with Cosmelan Peel in Riyadh. This powerful skin whitening treatment is designed to reduce melanin production, effectively treating hyperpigmentation and restoring your skin's natural radiance. Get ready to unlock a flawless complexion and boost your confidence like never before.
Cost: 1000 (alone) & 3,500 (with kit)
Treatment Type: Non-surgical
Results: Instant
Dark spots can occur on your face due to hyperpigmentation. To resolve this problem cosmelan treatment is used this is a powerful skin whitening treatment. This helps in the reduction of pigmentation by reducing the production of melanin.
It helps in restoring the skin back to its original shape even after sun exposure and extreme pigmentation. These imperfections occur due to melanin-like dark blemishes and discoloration on the hands and face these are one of the most common problems nowadays.
The treatment shows visible results within no time. Enhances the texture and tone of your skin giving you wonderful and outstanding results. The results of the treatment can be affected by the number of sessions you need. Whereas, Some results are visible after the procedure and some take a little time.
Some of the major benefits of cosmelan peel are:
Takes care of any kind of hyperpigmentation like melasma, sunspots, age spots, and post-inflammatory hyperpigmentation.
Enhances your face and improves the skin tone.
Dark spots, patches, and discoloration are reduced.
In order to prevent any future pigmentation your melanin is controlled.
It enhances the overall texture and makes your skin smoother and healthy.
The results last for a long time period.
Suitable for different skin types and ethnicities.
The Cosmelan Prep-Kit is a skincare product designed to prepare the skin for the Cosmelan Depigmentation Treatment. It helps to exfoliate and cleanse the skin, ensuring optimal results and minimizing potential side effects. By using the Cosmelan Prep Kit, you can enhance the effectiveness of the treatment and achieve a more even and radiant complexion.
The prep kit for cosmelan consists of the following things:
Degreasing solution
Maintenance cream
Hydra-Vital Factor K
Recovery Mask
These components work together synergistically to prepare the skin, initiate the depigmentation process, and provide necessary aftercare for optimal results.
The procedure of the treatment consists of the following steps:
Consultation:
At first, a consultation session will be held in which your skin will be assessed and all your concerns will be discussed and assessed if cosmelan treatment is suitable for you or not.
Preparation:
As the treatment will start any makeup, oil, or impurities present will be removed.
Applying Mask:
A mask that consists of active depigmentation elements will be applied to your face where pigmentation is present. The mask will be left on your face for a specific time period told to you by your doctor, It can be from some hours to overnight.
Neutralization:
After the time period of the mask ends it will then be neutralized by applying a neutralizing spray. This spray will be provided to you in the kit that helps in stopping the activity of the ingredients.


Mask Removal:
The mask is carefully removed, and your skin is cleansed again to ensure all residues are eliminated.
Following the Cosmelan peel treatment, it is crucial to adhere to the recommended aftercare instructions provided by your doctor or skincare professional. This includes:
The maintenance cream promotes depigmentation.
Applying the hydrating cream for skin nourishment.
Using Mesoestetic Sun Protection to shield your skin from harmful UV rays.
Following a proper skincare regimen will help maintain the achieved results.
The ratio of the reaction of hypertension towards your skin will be determined by the recommendations provided to you by your doctor. However, these sessions are held some weeks apart.
Side Effects of the Treatment
Although there are not that many side effects of the treatment but some of them that are present are:
Temporary redness and irritation.
Dryness and peeling of the treated area.
Increased sensitivity to sunlight.
Potential for temporary skin discoloration or darkening in some cases.
Cosmelan Peels
Starting From
The standard cost of Cosmelan peel in Riyadh is 1000 SAR when done alone and 3500 SAR with the kit. A consultation is done with our expert skin specialist in order to determine what kind of treatment you want after that, an exact estimate of the price will be given to you.
Factors affecting the cost
The factors that influence the cost are:
Treatment Area
Number of Sessions
Additional Treatments
Clinic Reputation and Expertise
Geographical Location
Why Should You Choose Us?
Enfield Royal Saudia provides one of the best treatment experiences regarding Cosmelan peel. Our surgeons are highly skilled and trained professionals in providing you with the best and smooth experience you could ever imagine.
Cosmelan peel treatment in Riyadh offers a powerful solution for hyperpigmentation, including melasma, sunspots, and age spots. By reducing melanin production, it restores the skin's original appearance and texture, even after sun exposure and extreme pigmentation. The treatment provides long-lasting results and is suitable for different skin types and ethnicities.
Say goodbye to pigmentation, and hello to luminous skin attain Clear, Smooth, and Confident skin by booking an appointment with us in Riyadh. Get a CONSULTATION with us to get a quote for yourself.
What is the downtime associated with Cosmelan Peel?
The downtime for Cosmelan Peel varies depending on the type of skin you have. However, you can expect mild redness, flaking, and peeling for a few days to a week.
Is Cosmelan Peel suitable for all skin types?
Cosmelan Peel is suitable for most skin types, including light to dark skin tones. However, it is essential to consult with your doctor as well.
How many sessions of Cosmelan Peel are required?
The number of sessions required can depend on the severity of pigmentation and individual skin response. Typically, a series of 1-3 sessions are enough.
Can Cosmelan Peel be combined with other treatments?
Yes, Cosmelan Peel can be combined with other treatments to address specific skin concerns. Like laser therapy, chemical peels, or skincare products to enhance the results of Cosmelan Peel.
Is Cosmelan Peel a painful procedure?
Cosmelan Peel is generally a well-tolerated procedure. You may experience a mild tingling or warm sensation during the treatment, which subsides quickly.
PCA peels, like other chemical peels, exfoliate dead skin cells to reveal fresh skin beneath in an effort to lessen the appearance of acne, hyperpigmentation, and aging.It produces skin that...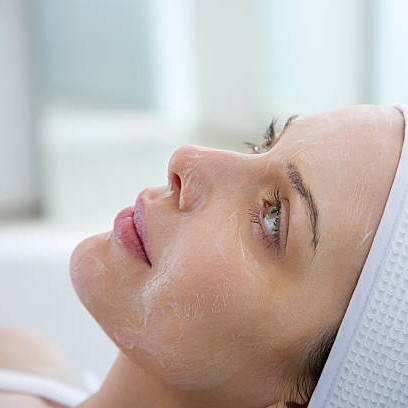 The skin's outer layer is removed by a gentle (superficial) chemical peel (epidermis). It is used to treat dryness, uneven skin tone, fine wrinkles, and acne. Every two to five weeks, you can...