Are you thinking of getting laser skin resurfacing in Riyadh? Enfield Royal Saudia provides the chance to say goodbye to wrinkled skin and an uneven complexion and enjoy a refreshed and young complexion. We give an effortless and assured experience thanks to our highly qualified staff with cutting-edge techniques.Visit us for a consultation now to get to know about the success rate of treatment.
Cost:

1500 SAR to 2600 SAR.

Treatment type:

Non-surgical

Results:

After 1-2 days.

Procedure:

30 minutes to 2 hours
Laser Skin Resurfacing in Riyadh
Laser skin resurfacing lessens face wrinkles, scars, and blemishes similarly to laser peels, laser vaporisation, and lasabrasion. To achieve this, a focused laser is directed at your skin. As you recover, new skin cells start to form, giving your skin a younger, tighter appearance. This approach may be used with other treatments.
Two main types are
Ablative lasers.
Non-ablative lasers.
Erbium or carbon dioxide are both used in this type of treatment. With the use of CO2 laser treatment, scars, warts, and wrinkles can all be reduced. Erbium, on the other hand, is used to remove problems such minor creases and wrinkles. These two ablative laser types both leave the skin.
These lasers don't remove a part of your skin as ablative lasers do. These are of the fractional, pulsed-light, or pulsed-dye kind. Both spider veins and skin conditions connected to acne can be treated with it.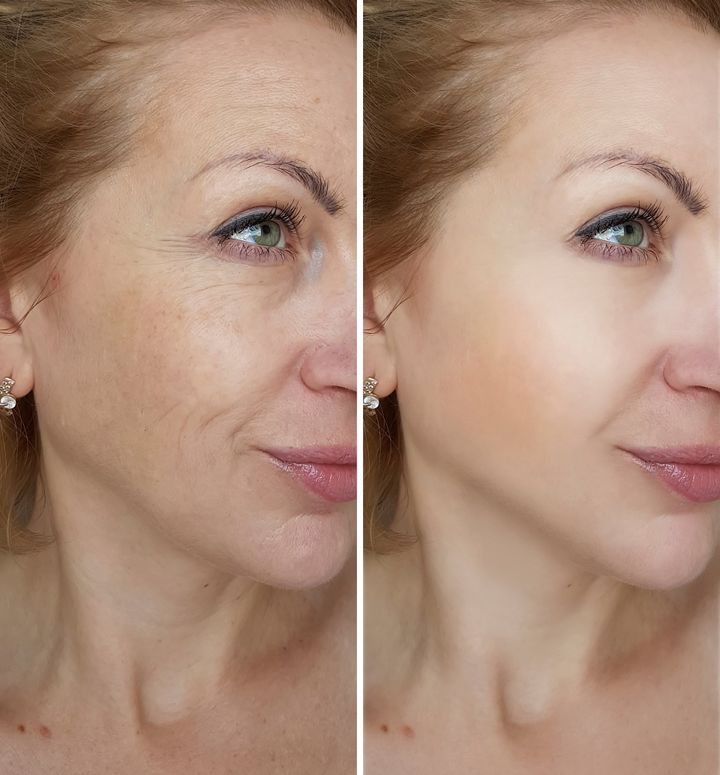 As a result the skin's general tone, quality, and texture have improved. Additionally, your skin tightens, giving the person who receives it a renewed and younger appearance. Skin imperfections are fixed, signs of aging are addressed.
The following characteristics make someone a good candidate for this kind of skin treatment:
When you have acne and scars, you want to make your skin more even and smooth.
People who suffer from skin conditions including age spots, stains, and sunburn.
If you wish to have skin that is more polished and your skin has wide pores.
If you wish to have any birthmarks or skin blemishes removed.
The treatment works according to the following ways:
Your skin undergoes a number of various sorts of therapies before the process when the treatment is ready to begin.
This is done to lessen the negative effects and improve the tolerance of your skin for cosmetic treatments.
On the day of the procedure, anaesthesia will be given to the treatment region to lessen any potential pain.
If a sizable region needs to be treated, painkillers will be administered.
Your skin is next cleaned and dried to get rid of any last-minute bacteria, oil, or grime.
The chosen type of laser treatment is used to begin the operation. The treatment region is then encircled with the laser.
This treatment offers alot of benefits for individuals seeking to make the appearance and texture of their skin. Some key advantages include:
Laser treatments can significantly decrease face wrinkles, crow's feet, and fine lines, giving the skin a more youthful appearance.
Scar Improvement: it can minimize scars and gives a smoother surface of skin
​​Enhancement of Skin Tone and Texture: Laser treatments improve the texture and evenness of the skin by removing age spots, sunspots, and uneven pigmentation.
Collagen Stimulation: The heat from the laser tightens the skin and lessens sagging for a firmer, more youthful appearance. It also stimulates the creation of collagen.
Following the provided aftercare instructions after procedure is important for a speedy healing.This includes applying moisturizer, protecting from the sun, and washing gently. Your dermatologist will provide you with advice on how to address any potential negative effects as well as the expected recovery period. By attending follow-up appointments and following skincare routines or maintenance treatments, you can keep your skin looking young.
Laser Skin Resurfacing
Starting From
Laser Skin Resurfacing
Standard
The cost of Laser skin resurfacing in Riyadh lies between 1500 SAR to 2600 SAR. A consultation is done with our expert specialist in order to determine what kind of treatment you want after that, an exact estimate of the price will be given to you.
Factors affecting the cost
The factors that influence the cost are:
Treatment Area
Number of Sessions
Additional Treatments
Clinic Reputation and
Expertise
Geographical Location
Why Should You Choose Us?
Enfield Royal Saudia provides one of the best treatment experiences regarding Cosmelan peel. Our surgeons are highly skilled and trained professionals in providing you with the best and smooth experience you could ever imagine.
Numerous advantages of laser skin resurfacing in Riyadh include the elimination of wrinkles and fine lines, the treatment of scars, improved skin tone and texture, and collagen stimulation. Depending on your particular demands, either ablative or non-ablative lasers are used throughout the operation. For the best outcomes, aftercare and rehabilitation are crucial, and our specialists will help you through it all. The cost of treatment at Enfield Royal Saudia is determined by the level of care you require. Don't pass up the opportunity to acquire clear, smooth, and assured skin. Make a time to meet with us in Riyadh to receive a customised consultation and quote. Laser skin resurfacing's transforming potential is now yours to experience.
Discover the Power of Laser Skin Resurfacing by gaining clear, Smooth, and Confident skin by booking an appointment with us in Riyadh. Get a CONSULTATION with us to get a quote for yourself.
Is laser skin resurfacing painful?
Laser skin resurfacing is generally well-tolerated with minimal discomfort. Anesthesia or numbing creams are often used to ensure a comfortable experience during the procedure.
How long does the procedure take?
The duration of the laser skin resurfacing procedure can take anywhere from 30 minutes to 2 hours.
Is there any downtime or recovery period?
Yes, there is usually a downtime and recovery period associated with laser skin resurfacing. The extent of downtime depends on the intensity of the treatment.
Are the results permanent?
While laser skin resurfacing can provide long-lasting results, the natural aging process and lifestyle factors can affect the longevity of the outcomes.
Are there any potential side effects?
Like any medical procedure, laser skin resurfacing carries some risks. Potential side effects may include temporary redness, swelling, itching, and changes in skin color. Serious complications are rare but can include infection, scarring, or skin pigmentation changes.
Can laser skin resurfacing treat all skin types?
Laser skin resurfacing can be performed on various skin types; however, the type of laser and treatment settings may need to be adjusted to ensure the best results and minimize the risk of complications.
Laser treatment for fine lines and wrinkles is a non-invasive cosmetic procedure that uses laser energy to penetrate the skin and stimulate collagen production. This can help to reduce the appearance of...
Are you tired of trying countless treatments to get rid of your unwanted tattoos, dark spots, hyperpigmentation, or acne scars? Have you ever heard of Pico Laser Treatment? This breakthrough...