Aptos Thread, the latest cosmetic phenomenon in Riyadh, is reinventing face rejuvenation. learn more about Aptos Thread in Riyadh, who should consider it, its remarkable advantages, and why our Riyadh clinic is the best location for your makeover.
Risks: None


Cost: 8000 SAR to 29000 SAR.


Type of treatment: Noninvasive


Results: Long-lasting
They are a non-invasive cosmetic procedure used to raise and tighten sagging skin on the face and neck. They are also understood as PDO Threads or Thread Lift. Through tiny incisions, dissolvable threads consisting of polydioxanone (PDO) thing are infused into the skin. These are placed and gently pulled to lift and realign the skin, providing a more young and revitalized impression.
Natural Lift: They give your face a gentle and naturalistic-looking lift, eliminating the excessively stretched formation frequently associated with surgical facelifts.
Collagen Stimulation: They encourage collagen building in your skin, resulting in a more young and healthy appearance over time.
Quick and Convenient: The operation normally takes less than an hour, making it an ideal choice for people with demanding schedules.
Minimal Rest: They have the lowest rest, allowing you to continue your daily activities quickly after treatment.
Long-Lasting benefits: While not permanent, the benefits can last up to two years, providing long-term regeneration.
Consultation: Make an appointment with a trained professional to discuss your objectives and medical history.
Medication Review: Discuss your drugs and supplements with your physician, and follow any blood-thinning medication recommendations.
Stay moisturized: Drink lots of water in the days leading up to your treatment to keep your skin moisturized.
Prepare Queries: Write down any inquiries you have for your specialist to help you understand the treatment completely.
To guarantee your convenience, the operation begins with the administration of a local anesthetic. This chemical assures that you will not feel any pain during the strategy.
After the anesthesia has taken the outcome, your specialist will delicately infuse it under your skin with a thin needle. Precision is used to lift and tighten certain regions of your face or body.
After they are incorporated, you will sense a modest lift in your skin. quick satisfaction is one of its distinguishing features.
While you may suffer some small soreness or oedema following the operation, it is mostly tolerable and only transitory. Any soreness usually goes away within a few days.
They enable more rapid healing than surgical facelifts, which take weeks of rest. Most people are able to resume their normal activities within a day or two.
Because of the threads' collagen-stimulating qualities, the benefits of Aptos Thread can endure up to two years. This implies you'll be able to enjoy your revitalized appearance for a long time.
Some of the steps are as below
Rest and Relax: After the operation, take it easy for a day or two to let your skin to recuperate.
Gentle Cleansing: Maintain your usual skincare regimen, but wash your face gently to prevent irritating your skin.
Sun Protection: Protect your skin from the sun by wearing a helmet and applying sunscreen to protect your results and avoid skin damage.
Aptos Thread Cost in Riyadh
Aptos Thread
Starting From
Discover the top choice in Riyadh for Aptos Thread in Riyadh. We understand the importance of cost considerations when contemplating any treatment, which can vary from 8000 SAR to 29000 SAR. The total cost may fluctuate due to various factors and individualized features, with several key elements influencing the pricing.
Treatment area
Location
Number of threads
Clinic reputation
Elevate Your Beauty with Aptos Thread!
Aptos Thread in Riyadh is overseen and assisted by cutting-edge medical technology in Riyadh. Visitors to our clinic can engage with highly skilled healthcare professionals who have access to cutting-edge technologies. Our dedicated team is totally focused on assisting patients in achieving their goals and providing the finest level of treatment.
To reserve a meeting with our team of specialists for Aptos Thread in Riyadh please arrange a consultation. Our highly trained staff is ready to provide you with assistance.
Yes, when conducted by a skilled and trained expert, It is regarded safe. Biocompatibles are employed, and the body tolerates them well.
How long do the effects last?
Because of the collagen-restorative characteristics, the benefits can endure up to two years. Individual outcomes may differ.
Is the method uncomfortable?
Because local anesthesia is utilized to reduce discomfort during the treatment, most patients only feel minimal discomfort.
How long does it take to finish?
The therapy normally takes less than an hour, making it an excellent choice for individuals with demanding schedules.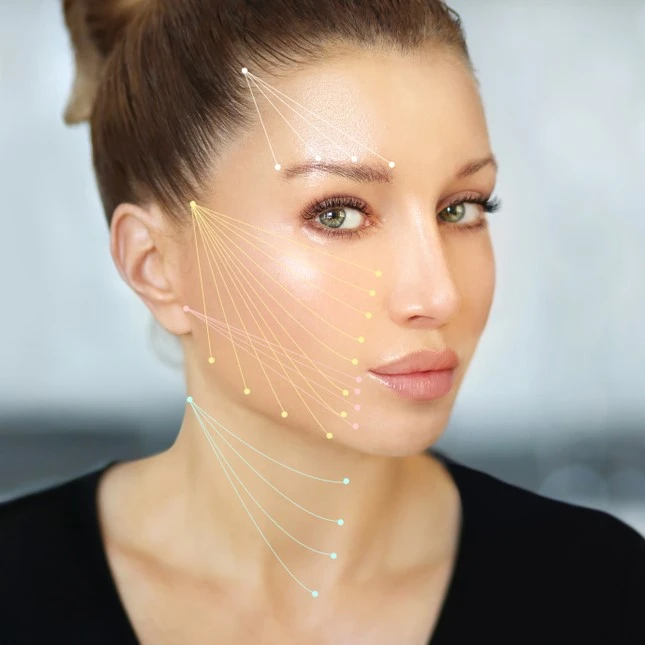 Are you looking for a way to rejuvenate your appearance without undergoing surgery? Look no further than thread lift. This minimally invasive cosmetic procedure involves inserting..
As we age, our skin loses its elasticity, leading to sagging and wrinkles. One way to combat these signs of aging is through a facelift, also known as rhytidectomy. A facelift is a surgical procedure that...