Different Male Baldness Treatments
A "Natural hair-restoration" method is what hair transplantation is referred to as. There is relatively little downtime and it is not extremely intrusive. The procedure entails transplanting hair follicles from one area to another. There are two types:

FUE (Follicular Unit Extraction)
FUT (Follicular Unit Transplantation)
At Enfield Royal, our specialists evaluate your suitability for a hair transplant and let you know if you're a good candidate or not. If you are a good candidate, they advise you of the expected outcomes and provide cost estimates based on the number of grafts needed.
There are only three steps in the Baldness Treatment for Men.
Extraction
Preparation
Implantation
EXTRACTION
Using the FUE or FUT method, surgeons gently remove the hair transplants from the donor region. In FUE, the hair is removed using a micro punch instrument, whereas, in FUT, the hair strip is cut off.
PREPARATION
After extraction, the grafts are sorted one by one and occasionally modified or chopped for the best implantation. To generate pockets of grafts, doctors also use needles to make very small incisions on the scalp.
IMPLANTATION
Final step: The prepared hair transplants are implanted into specially sized scalp holes. Our experts carefully analyze the angle, depth, and orientation of follicles to prevent natural transplanting outcomes.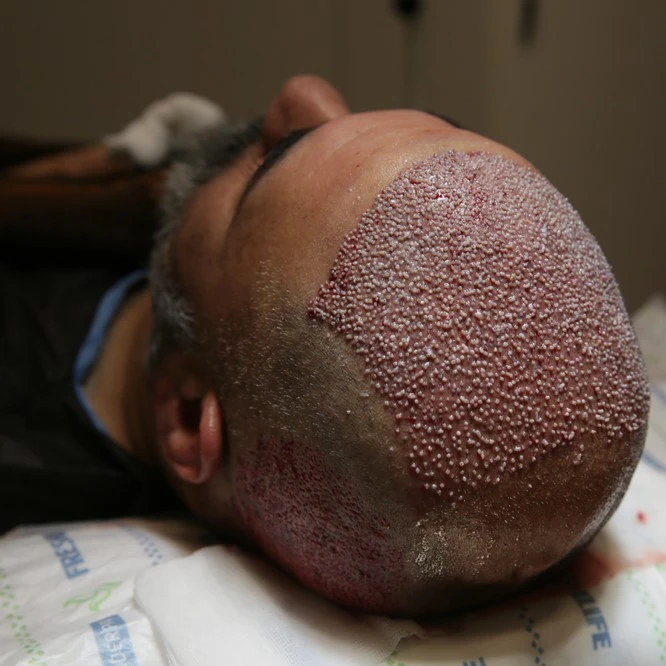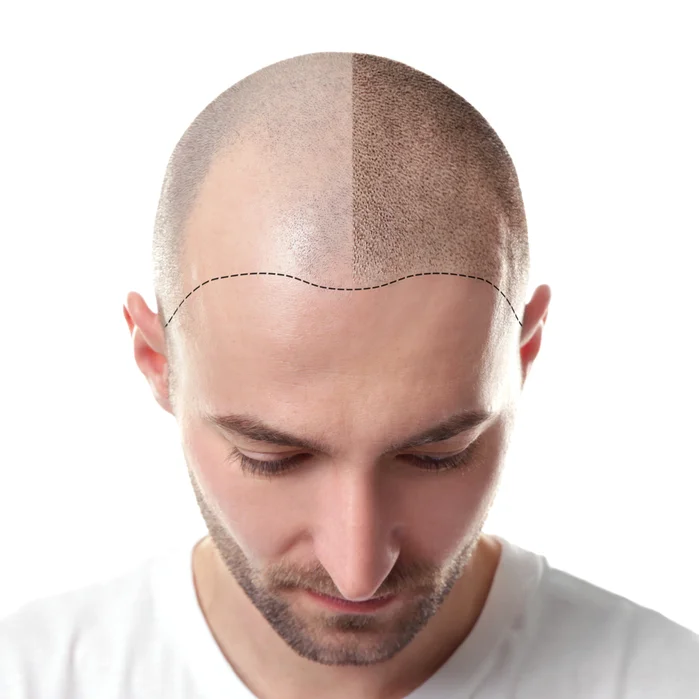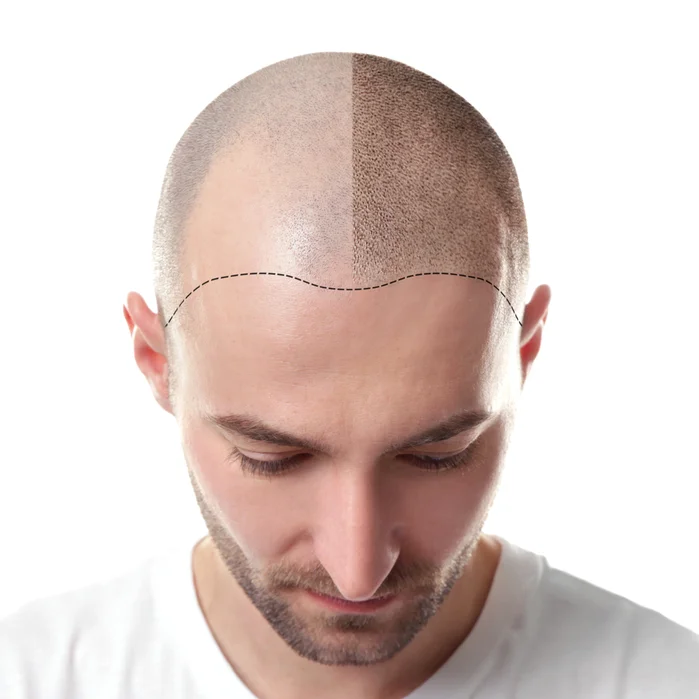 Male Baldness Treatment produces a subtly noticeable regrowth of fresh, revitalized hair that grows out naturally. Although the complete transplanting outcomes might take a year, this alteration in the scalp becomes apparent after at least four months.
Recovering takes a maximum of 7 days, giving the redness and swelling time to go down. Life won't be significantly disrupted by this procedure. After seven days, you can resume your normal routine with a few key concerns, which are discussed in the section below.
male Baldness treatment
Starting From
The cost of Male Baldness Treatmet in Riyadh starts from 6,999 SAR (+5% VAT) per session, but may go up depending on the case. Fill in the form to get an exact quote for you!
Can a bald man's hair grow back?
Male-pattern baldness is incurable, although certain drugs can slow it down. Applying minoxidil to your scalp is a topical therapy that has received FDA approval. Some males report that it encourages fresh hair growth and delays hair loss. The hair loss resumes after you stop using it, though.