What is Clitoral Hoodectomy?
The skin folds that enclose and shield your clitoris are reduced in size during a clitoral hood procedure by removing extra tissue. Your clitoral hood is these folds of skin. A type of plastic or cosmetic surgery is a clitoral hood reduction. Surgery to repair a body portion is referred to as plastic surgery. Plastic surgery that alters and enhances look is referred to as cosmetic surgery.
The clitoral hood can be oversized and filled with extra tissue in some people. During a clitoral hood reduction, this extra skin is removed. This kind of cosmetic surgery is referred to by medical professionals as "feminizing genitoplasty."
An outpatient clitoral hood reduction takes around an hour to complete. You return home that day. While you are awake or under sedation for the procedure, you may get local anesthetic to numb only the treatment region. Alternatively, you can have general anesthesia, which puts you to sleep.
Sometimes gynecologists will operate both a clitoral hood reduction and a labiaplasty at the same time. A labiaplasty reshapes your labia minora (small lips) and labia majora (large lips), which surround your vagina, by removing extra skin from the area. The labia appear more even or symmetrical after this procedure.
Your healthcare provider will:
First performs a labiaplasty (if desired).

Trims extra skin from the clitoral hood with extreme care taken to protect the clitoris' nerves and tissue.

Stitching up the wounds with removable materials.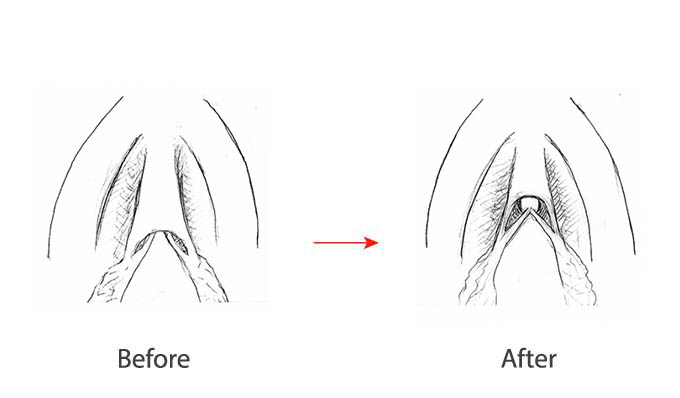 The majority of patients who get clitoral hood reductions with labiaplasties are really happy with the outcomes. Your external genitalia can look better and feel more comfortable after the surgery.
Clitoral Hoodectomy
Starting From
The starting cost of Clitoral Hoodectomy in Riyadh is 20,000 SAR (+5% VAT). Fill in the form to get a FREE consultation!
Does a clitoral hood reduction increase sensitivity?
By itself, a clitoral hood reduction does not improve sensitivity. However, the technique exposes more of your clitoris, a very delicate region. The intensity of your sexual experience may increase if you have more of your clitoris available.