If you've been thinking about rejuvenating your face, you've come to the perfect site to learn about the main features of the procedure and how it may revive your look. Face Rejuvenation in Riyadh are quite popular in Riyadh since they provide a means to restore confidence and young beauty.
It is the technique of giving your skin a youthful appearance. It entails various minimally invasive to non-invasive procedures intended to address aging symptoms such as wrinkles, fine lines, sagging skin, and uneven skin tone. These procedures breathe new life into your face, revealing a fresher, younger, and more vibrant you by enhancing skin cell turnover and collagen synthesis.
It produces results that are nothing short of amazing, giving you a refreshed appearance and feeling. Face rejuvenation produces stunning results that go beyond the surface, whether you're hoping to reduce fine lines, wrinkles, or sagging skin, or you just want a fresher, more radiant complexion.
Who is an ideal candidate
Following are some of the nominees
Age: Usually between the ages of late 20s and mid-60s.
Concerns: Trying to treat moderate skin laxity, fine lines, and other early indicators of aging.
Good overall health: Overall in good physical shape and free of serious medical issues.
Realistic Expectations: Recognises the processes' constraints and the results that can be expected.
Risk awareness: thorough knowledge of the advantages and possible hazards.
Desire for Enhancement: Strives for enhancement rather than perfection in natural beauty.
Specific Concerns: Has specific face issues they want to focus on.
The advantages of face rejuvenation go beyond the superficial. You may anticipate the following benefits from this life-changing encounter:
Young-Looking Appearance: Say goodbye to lifeless skin and welcome to a radiant, young glow.
Improved Confidence: With renewed features, you'll feel more confident in all facets of your life.
Noninvasive option: Enjoy a variety of non-surgical treatments that take little recovery time and produce outstanding results.
Customizable Treatments: it offers individualized treatments that are catered to your particular demands.
Natural Results: Accept a revitalized appearance that brings out your innate attractiveness without seeming excessive.
Some of the pre-care Steps are as below
Sun protection: Use sunscreen regularly with an SPF of 30 or higher and seek out shade to protect your skin from the sun's damaging rays.
Keep moisturized: Drink lots of water every day to keep your skin moisturized.
Healthy Eating: To hydrate your skin, eat a balanced diet that is high in fruits, vegetables, and antioxidants.
Avoid Smoking: To promote the health and restoration of your skin, think about giving up smoking before your rejuvenation.
Tell your physician: For a safe and efficient treatment plan, be sure to let your doctor know about your medical history, allergies, and medicines.
Skip Blood Thinners: To lower the risk of bleeding and bruising, temporarily stop taking blood-thinning drugs as prescribed by your doctor.
Your concerns and medical history will all be discussed to create a unique strategy for you
Skin will be properly cleansed before the operation to guarantee a clean surface for the treatments.
A numbing lotion may be administered to the treatment region for your comfort to make the procedure soft and nearly painless.
 Tiny injections are carefully given to relax particular facial muscles to smooth out creases and lines. This results in a fresher, younger appearance.
They are delicately injected into specified regions to restore lost volume and perk up cheeks or lips, producing natural and harmonious effects.
A peel solution is applied to the skin if you want a more luminous complexion.
Always use sunscreen to protect your skin from the sun's rays and limit your time in the sun. To keep your skin supple, stay hydrated by drinking lots of water. Avoid using abrasive skincare products that can irritate your skin and carefully adhere to any special post-procedure recommendations that your doctor may have given you. You'll nourish your newly discovered glow by following these easy instructions.
Face Rejuvenation
Starting From
Face Rejuvenation
Standard
The cost of Face Rejuvenation in Riyadh often runs from SAR 3999 to SAR 9999, which is acceptable. While establishing treatment plans, it's important to bear in mind that our professionals will determine the exact cost during your first session.
Several factors influence the pricing, such as:
The repute of the clinic and the area,
Surgeon's training and experience,
Number of sessions required,
Location of the clinic.
Because we have the knowledge and experience to enhance your natural beauty, choose us to help you with your face rejuvenation in Riyadh journey. Our individualized approach guarantees that your needs-specific therapies are provided. You can rely on us to create spectacular, realistic-looking results thanks to state-of-the-art equipment and a commitment to your safety. Your comfort and pleasure are our top priorities, and we do this by fostering a welcoming environment. We are the ideal choice for releasing your timeless glow because of our love for beauty and dedication to honesty.
Plan a consultation with one of our experts to book an appointment with us! Our skilled team is available at all times to assist you.
When carried out by experts, these procedures are typically risk-free but do come with certain downsides.
How long do the effects last?
Different treatments have different results; non-surgical ones last months while surgical ones might last years.
Do recovery periods follow treatments?
Healing time varies per technique, with non-surgical treatments requiring the least amount of recovery time.
Do these procedures hurt?
The amount of discomfort varies, but with the right precautions, most treatments are manageable.
What typical symptoms are there?
Wrinkles, fine lines, sagging skin, and a loss of face volume are typical indicators of facial aging.
As we age, our skin loses its elasticity, leading to sagging and wrinkles. One way to combat these signs of aging is through a facelift, also known as rhytidectomy. A facelift is a surgical procedure that...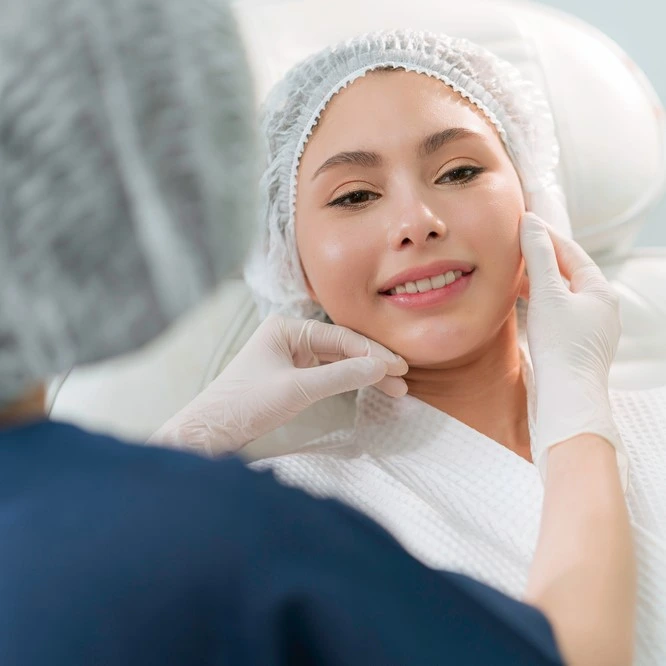 Your facial plastic surgeon may do a microvascular free tissue transfer, also known as a "free flap," during which the doctor transfers skin, bone, or muscle from one area of your body to create new...