Despite your best efforts, are you tired of battling constant fatty Layers? Look no further than the cutting-edge surgery known as Lipolysis Treatment in Riyadh, Which is getting popular in the beauty market. With growing popularity, Riyadh people are seeing amazing physical changes and regaining their confidence. We'll go into the specifics of lipolysis therapy.
Risks: None


Cost: SAR 499 to SAR 999


Duration of Treatment: 30 minutes to an hour.


Treatment type: Minimally Invasive
What is Lipolysis Treatment?
A minimally invasive cosmetic surgery, Lipolysis Treatment, often referred to as non-surgical liposuction or fat-dissolving injections in Riyadh, targets localized fat deposits. In contrast with standard liposuction, lipolysis therapy contours your body without surgery by using injections of specialized chemicals to destroy stubborn fat cells. For those who want to reshape their body without running the danger of intrusive surgery or dealing with the related risks and healing time, this technique provides an instant and lasting results option.
For both the Individual Getting the treatment and the professional surgeons carrying it out, lipolysis therapy frequently produces extraordinary and incredibly pleasant outcomes. The procedure lowers the amount and symptoms of cellulite, restores tone, and tightens the skin since collagen synthesis is promoted by a laser.
Non-invasive and secure: Lipolysis therapy is a non-surgical method of body contouring, making it an effective and attractive alternative for individuals who want to avoid the risks connected with surgery.
Targeted Fat Reduction: This process focuses on problem areas directly and successfully gets rid of alot of bothering fat that is not fixed with traditionall weight loss techniques.
Improved Body Contouring: The procedure sculpts your body, enhancing your Entire body and giving you a more proportional and defined look.
Low Recovery period: Unlike invasive surgical treatments, lipolysis therapy has a low recovery period, allowing you to get back to your regular activities right away.
Who is an Ideal Candidate?
People who struggle with certain areas of not desirable fat that resist food and work out are good candidates for lipolysis therapy. A lipolysis treatment could be the solution you've been looking for if you're frustrated by love handles, a double chin, bra bulges, or muffin tops that refuse to go away despite your best efforts. To ascertain your eligibility and make sure that lipolysis therapy meets your expectations and goals, you must speak with a skilled medical specialist.
The flexible lipolysis method can target different body parts where stubborn fat deposits typically accumulate. Lipolysis is frequently used to Effectively Fix a number of conditions, such as:
Abdomen
Hips
Thighs
Buttocks
Chin and Neck
To get the most out of your Outcomes and ensure a pain-free process, you must stick to basic pre-care guidance before receiving lipolysis therapy. Particular suggestions based on your own need will be given by your medical expert. However, take into account the following general advice:
Drink lots of water to maintain proper hydration.
As directed by your healthcare practitioner, avoid taking vitamins and drugs that thin the blood.
You should talk to your doctor about any illnesses or allergies you may have.
Following the procedure, abstain from drinking and smoking.
The method typically includes the following steps:
An initial consultation with a certified medical professional will be conducted to determine your eligibility for the position talks about your objectives, and answer any worries or inquiries you might have.
Doctor will Make a Unique plan for you depending on your specific needs. This plan will specify the targeted regions and the necessary treatment sessions.
Administration of Injections
During therapy, certain fat-dissolving agents are injected with the use of small needles into the places that need it. These injections speed up the breakdown of fat cells, which the body then naturally eliminates.
Depending on the amount of the therapy, the process normally lasts between 30 and 60 minutes. You could feel some slight discomfort, such as stinging or burning, but it will pass quickly and without any problems.
It's essential to Stick to the aftercare recommendations given by your doctor after the lipolysis procedure. These guidelines might state:
Wearing clothing with compression can support the recovery process and support the treated regions.
Neglecting severe exercise for a few days.
Maintaining the injection sites' skin properly.
Maintaining regular follow-up appointments to check on your progress.
In comparison, the quick recovery time following lipolysis therapy is its amazing benefits. Though recovery times vary from person to person, most patients may start their normal practices within a short period of time. It's essential to keep in mind that full benefits will not be visible for a few weeks because the body slowly gets rid of the treated fat cells. Keeping a beneficial lifestyle throughout this period, including regular exercise and a balanced diet, is essential to maximizing and extending the therapeutic effects.
The cost of Lipolysis Treatment at Enfield Royal Clinic typically ranges from SAR 499 to SAR 999. It's essential to mention that this is a general estimate, as the final price will be determined during your initial consultation with our team of experts.
Lipolysis Treatment
Starting From
Lipolysis Treatment
Standard
Doctors Experience
Clinics location
Treatment type
Say Goodbye to Stubborn Fat by choosing us
At our clinic, we're determined to meet your anticipations with outstanding Lipolysis Treatment in Riyadh. When you choose us, we provide a unique and life-changing experience. Our group of medical professionals is dedicated to comprehending your specific requirements and objectives. We take the time to carefully consider your worries before creating a therapy strategy that is uniquely suited to you.
Are you ready to start on the path to a more self-assured you? Set up an appointment at Enfield Royal Clinic right now to take the first step. Our team of specialists is available to respond to your inquiries.
This therapy is indeed regarded as a secure and short intrusive method. The body usually handles the specialized compounds used in the injections well.
How long does the therapy process including lipolysis last?
The intensity of the therapy and the number of regions being addressed determines how lengthy the method takes. The treatment may often be finished in 30 to 60 minutes.
Is this a painful process?
Most people just feel a little discomfort when having lipolysis therapy. The burning or stinging sensation that you may feel in the injection areas is usually tolerable.
How many lipolysis therapy sessions are necessary?
Depending on specific factors like the quantity of fat to be treated and your desired result, the number of sessions required for optimal results may vary.
Are the effects of lipolysis therapy long-lasting?
Chubby cells in the treated regions are permanently eliminated by lipolysis therapy. To stop new fat deposits from accumulating, it's crucial to keep a healthy lifestyle.
Are you tired of struggling with stubborn pockets of fat despite a healthy diet and exercise routine? Are you ready to take control of your body and achieve the shape you've always...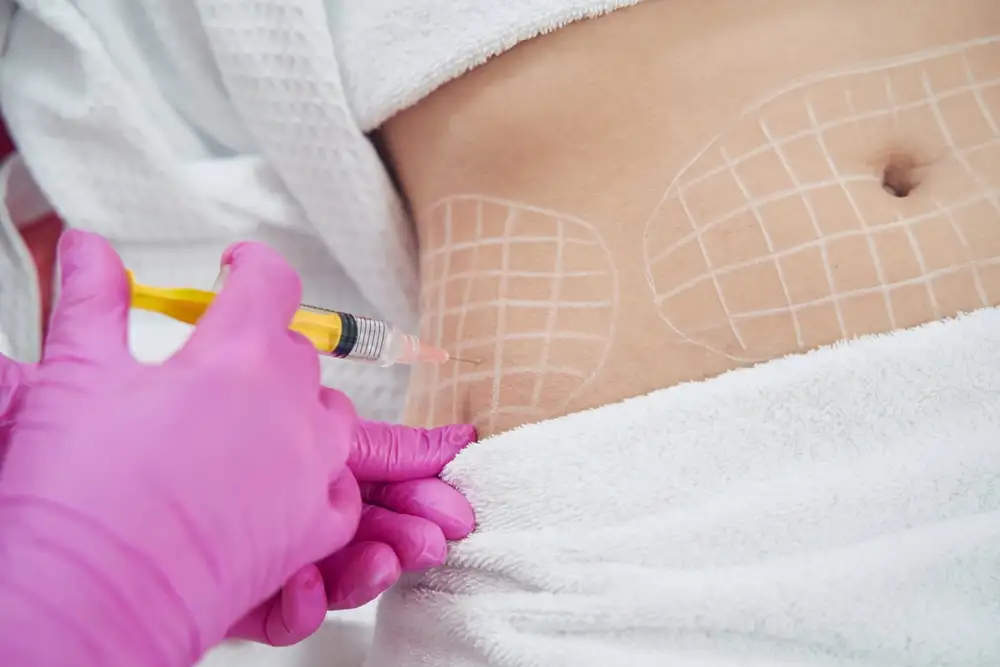 For those looking to get rid of stubborn fat and get a more contoured figure Fat melting injections provide a non-invasive and efficient alternative. The areas that are targeted by the injections that use..