What is GFC Treatment for hair?
Growth factor concentrate, often known as GFC, is a highly concentrated kind of growth factor treatment for hair produced from a person's blood that helps to slow hair loss and promote face rejuvenation.
Enfield Royal Saudia offers growth factor concentrate and other cosmetic surgeries in KSA.
Several growth factors are present in platelets (a type of cell in our blood). This GFC treatment delivers a high concentration of a person's growth factors directly into the layers of skin by injecting platelets into the scalp and skin (facial and neck). This promotes hair growth and skin renewal. Regeneration and repair are later encouraged.
The first step in the non-surgical GFC Hair Treatment is to take blood from the patient's arm.
After that, the blood is processed in a centrifuge to separate the red blood cells, plasma, and growth factors.
The scalp is then injected with enhanced growth factors.
The number of injections required depends on the patients' amount of hair loss
The procedure is done in 1 hour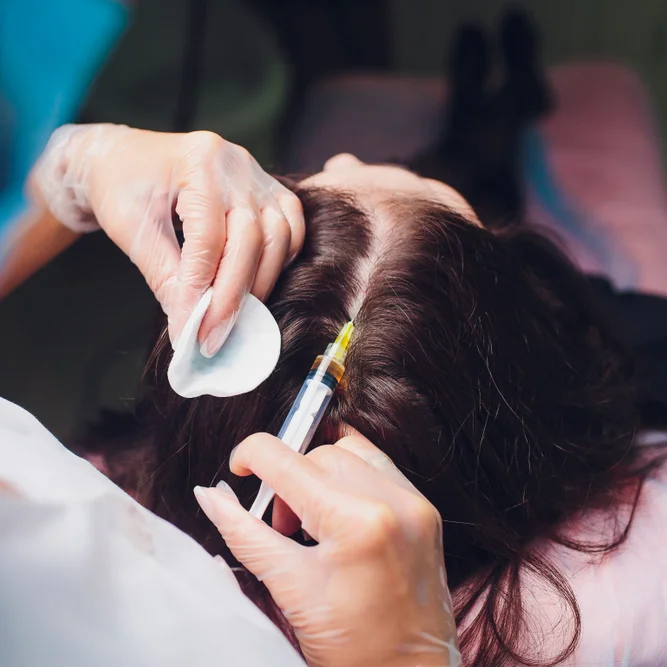 The effects last a long time, and maintenance treatment could be needed every two to three months. You may need 4-6 treatments depending on how severe your problem is.
gfc treatment
one session
gfc treatment
three sessions
The starting cost of GFC Treatment in Riyadh is 950 (1 Session), 2,150 (716 per session for 3 Sessions), and 2,780 (695 per session for 4 Sessions).
What are the benefits of GFC treatment ?
The GFC treatment for hair has the following benefits:
It reduces hair loss
Thickens and volumizes hair.
Both offer advantages but GFC is a better choice than PRP injection for a variety of reasons. The use of patient blood platelets makes this cutting-edge, well studied procedure safer by lowering the risk of pain and inflammation.
Is GFC treatment painful?
Growth Factor Cocktail (GFC) with microneedling is painless and inexpensive.
Yes GFC treatment is safe procedure.