Smoker lips are used to symbolize the outward signs of smoking on the lips and have gained popularity in Riyadh. As smoking remains a common habit, more people are looking for efficient ways to undo the harm caused by tobacco usage. This treatment will help examine the root causes of a smoker's lips, go over the available treatment options, and offer crucial aftercare advice to guarantee the best outcomes.
Treatment Type: Non-Invasive


Time: 30 minutes to an Hour


Cost: Affordable
What is Smoker Lips Treatment?
They are referred to as the sharp lines around the mouth. Your lips and gums tend to turn a darker colour after smoking for a long time.
When you smoke cigarettes or other tobacco products for a very long time in your life, this typically occurs. The finest thing you can do to improve your lips' appearance if you feel uneasy about them and want to get rid of them is to stop smoking. This is the only natural solution that will significantly improve the colour of your lips.
You will benefit from the procedure by having bigger, more voluminous lips with fewer fine lines and wrinkles, giving you a refreshed appearance. You will be able to see the treatment's benefits a few hours following the procedure.
Treatment for smoker's lips has a number of advantages, including:
The operations can make your lips look younger by enhancing their general texture and colour, reducing fine lines and wrinkles, and restoring lip volume.
By eliminating the blatant effects of smoking, smoker lips therapy can significantly boost a person's self-esteem and confidence, allowing them to feel more at ease and satisfied with their smile.
Treatment for smokers' lips can reverse the effects of smoking's accelerated ageing and restore the lips' more bright and youthful appearance.
If you smoke or have smoked in the past and are dissatisfied with the appearance of your lips, you may be a good candidate for smoker lips treatment. You must have reasonable expectations for the outcome of the procedure and be in good general health. To determine the best course of action for your needs, it is recommended that you speak with a certified dermatologist.
Long-term smoking exposes the lips to the toxic poisons and chemicals included in cigarettes, resulting in a smoker's lips. The main reasons for smoker's lips are as follows:
Cigarette tar and nicotine narrow blood vessels, decreasing blood flow to the lips. The lips become pale and discoloured as a result of a lack of oxygen and vital nutrients.
Smoking can reduce the amount of moisture in the lips, causing them to become dry, cracked, and more vulnerable to chapping. Smoking frequently makes lips dry and might lead to the development of vertical lip lines.
Collagen and elastin, two vital proteins in charge of preserving lip volume and stiffness, are inhibited by smoking. The lips gradually become thin, wrinkled, and lose their natural plumpness over time.
Among the several therapy options are:
Hyaluronic acid fillers are injected into the lips during this non-surgical technique to plump them up and smooth out creases. Dermal fillers can generate results that look natural and last for several months, making them an effective temporary solution for smokers' lips.
By inducing the creation of collagen, fractional laser resurfacing is one form of laser technology that may enhance the texture and appearance of lips. The laser light targets unhealthy skin cells and encourages the growth of fresh, healthier cells, giving lips a smoother, younger-looking appearance.
During chemical peels, chemical solutions are administered to the lips to remove the skin's damaged outer layer. This process improves the smoothness of the lips, promotes the growth of new skin cells, and minimises discolouration brought on by smoking.
It's crucial to fully prepare yourself before receiving smoker lips therapy in Riyadh. Following are some pre-procedure instructions:
Consultation: An appointment will be held to evaluate your health, talk with you about your objectives, and suggest the best course of action.
Medical History: Your complete medical history will be acquired to track any drugs, allergies, or underlying illnesses. Your individualized treatment plan will be safe and successful as a result of the information provided.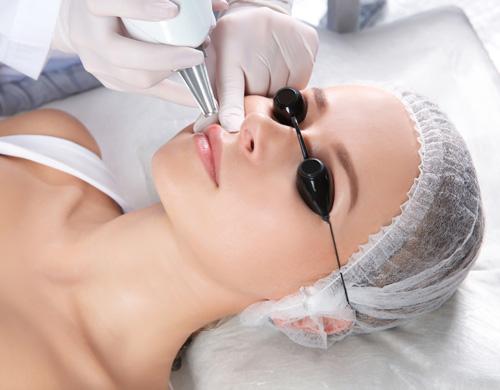 The procedure is carried out in the following way:
Consultation and Assessment
At first, a consultation session will be held in which the assessment of your lips will be carried out to determine which treatment procedure suits you best.
Preparing for the Procedure
You will be advised to follow pre-procedure guidelines provided by your surgeon, such as avoiding blood-thinning medications and staying hydrated.
A numbing agent will be applied to ensure your comfort during the treatment.
Application of the Treatment
Your surgeon will do precise injections, use laser energy, or apply a chemical solution to enhance your lips, depending on your preferred option (dermal fillers, laser therapy, or chemical peels).
Post-Treatment guidelines
Follow the post-treatment guidelines, which include using sunscreen, quitting smoking, and moisturising your lips.
Enjoy Smoother, plumper, and younger-looking lips that will enhance your confidence and make your smile more attractive.
For the best results and to retain the advantages of smoker lips treatment, it is essential to adhere to the proper aftercare instructions:
To regularly protect your lips from harmful UV radiation, use a lip balm or sunscreen with SPF. Sun exposure can hasten the negative effects of smoking and hasten ageing.
Apply a moisturising lip balm throughout the day to keep your lips moisturised. Lips that are well-hydrated resist drying out and cracking.
Stop smoking or reduce your tobacco intake if you want to protect your lips from future damage and keep the results of your treatment.
While most smoker's lips treatments are safe and well-tolerated, some patients may experience transient side effects. These could include:
Minor bruising and swelling may be brought on by dermal fillers and other injection-based procedures, although these adverse effects frequently fade away within a few days.
Both laser therapy and chemical peels may cause brief redness and irritation in the area that was treated. These side effects typically go away within a week.
Smoker Lips Treatment
Starting From
Smoker Lips Treatment
Standard
Smoker Lips Treatment costs between SAR 750 and SAR 2000. However, the actual cost depends on a number of variables. The actual price will therefore be set at the initial consultation with the surgeon.
Impacting factors of cost
Type of Treatment
Number of Sessions
Expert Team
State-of-the-Art Facility
A variety of efficient options are available for smoker lips treatment in Riyadh to undo the outward signs of smoking on the lips. It is essential to seek advice from a licensed dermatologist who can walk you through the procedure and guarantee the best outcomes, whether you decide to use dermal fillers, laser therapy, or chemical peels. Make an appointment right now to start the process of restoring your smile and improving your overall look.
Choose us to get smoother, plumper lips!
Here at Enfield Royal Saudia, we provide top-notch dermatological expertise, cutting-edge facilities, and a personalized experience that will leave you with beautifully rejuvenated lips.
Book an appointment to restore your lips!
Ready to transform your smoker lips into a radiant smile? Book a free appointment with our experienced dermatologists in Riyadh and discover the most suitable treatment options for you.
Is there a specific age requirement for smoker lips treatment?
People of all ages may benefit from treatment for smokers' lips. It is best to seek advice from a dermatologist who can evaluate your unique needs first.
Which treatment provides immediate results?
Dermal fillers often produce quick volume improvement, so you will start to notice effects right away.
Is smoker lips treatment painful?
The treatment process is generally well-tolerated, and discomfort is minimized through the use of numbing agents.
How long does the smoker's lips treatment take?
The therapy typically lasts between 30 and 60 minutes, though this can change based on the precise procedure and individual circumstances.
Are there any side effects or downtime?
Although they are frequently minor and transient, adverse effects can include redness, sensitivity, oedema, or bruising in the treated area.
Are you tired of looking in the mirror and feeling like your lips don't match the rest of your face? Have you considered lip fillers as a way to enhance your natural beauty and achieve a more...
Are you tired of having thin or uneven lips that leave you feeling self-conscious and unconfident? If so, it may be time to consider Russian lip fillers. These advanced lip filler treatments have...