Are you willing to take charge of your breast health? Mammogram screening in Riyadh has grown in popularity as an important step in early breast cancer diagnosis. This non-invasive surgery has saved countless lives and is still an important part of women's health in the region.
Risks: None


Cost: 399.00 SAR to 8,999.00SAR


Type of treatment: Noninvasive


Results: Long-lasting
Mammogram Screening in Riyadh!
It is a specialized medical technique that includes capturing pictures of breast tissue using X-ray technology. These pictures, known as mammograms, are critical for the early diagnosis of breast cancer and other breast abnormalities. They can detect anomalies such as tumors, cysts, or calcifications that would otherwise go undetected based on physical examination or the presence of symptoms.
Women over 40: This product is especially suggested for women over the age of 40.
High-risk Individual: Individuals at high risk include those with a family history of breast cancer or certain genetic abnormalities.
Individuals that exhibit symptoms: Anyone who has unexpected breast alterations, such as lumps or nipple discharge.
Early detection: The major benefit is finding breast cancer in its early stages when it is most curable. Early diagnosis can boost survival chances dramatically.

 

Non-invasive: They are generally rapid and completely non-invasive, with little pain.

 

Regular check-ups: Routine screenings provide a baseline for your breast health. Any changes that occur over time may be noticed and handled swiftly.

 

Peace of mind: Knowing that you are actively monitoring your breast health can reduce worry and empower you to take charge of your health.
Make an appointment: To schedule your mammogram, contact your healthcare practitioner or a specialized breast clinic in Riyadh.

 

When to get your mammogram: Choose a time when your breasts are less likely to be sensitive. This usually means avoiding the week before your menstruation.

 

Avoid deodorant: Avoid using deodorant, antiperspirants, or powders on the day of your mammogram since they might interfere with the X-ray pictures.
When you arrive at the clinic, you will go through a quick registration procedure, including submitting your medical history and insurance information if necessary.
You will be requested to change into a gown that exposes your upper body.
You will be positioned for the mammography by a radiologic technologist. Each breast will be squeezed between two plates in order to uniformly distribute the breast tissue and acquire crisp pictures.
The X-ray equipment will produce pictures from various angles. During compression, you may feel some pressure or pain, but it will only last a few seconds.
Repeat for the opposite breast
The method is then done for the opposite breast.
Results: The radiologist will evaluate the photos, and your healthcare practitioner will go through the findings with you. The findings are generally available within a few days.
Routine screening: Your healthcare professional will advise you on how frequently you should undergo mammograms based on your age and risk factors. Regular screenings are essential for maintaining continuous breast health monitoring.
Breast Self-Examination: Continue to undertake monthly breast self-examination to keep your breast tissue acquainted. If you detect any changes, please notify your healthcare practitioner right away.
Resume Normal Activities: You can resume your normal activities immediately following the mammography. There is no need for post-procedure treatment.
Mammogram Screening Cost in Riyadh
Mammogram Screening
Starting From
Mammogram Screening
Standard
The average cost of Mammogram Screening in Riyadh varies greatly , often ranging from 399 SAR to 8,999 SAR. It is critical to note that the ultimate pricing is impacted by a variety of elements and distinguishing characteristics.
Location
Surgeons expertise
Additional tests
Early Detection, Lifelong Protection
At our clinic, we take pleasure in having the most up-to-date medical technology to give you with the most modern treatment possible. When you visit our facility, you will engage with highly skilled healthcare professionals who have access to cutting-edge technology. Our whole staff is committed to aiding patients in reaching their goals and providing great care.
Are you prepared to begin an incredible transformation that boosts your confidence and enhances your beauty? It's time to kickstart this remarkable change. Schedule a consultation with us today at Enfield Royal Clinic for a Mammogram Screening in Riyadh.
When should I begin to have them?
They are advised for most women beginning at the age of 40. Individual recommendations, however, may differ depending on risk factors, so check with your healthcare physician.
While some discomfort or pressure is felt during breast compression, it is usually not unpleasant and only lasts for a short period of time.
How frequently should I have them?
The number of them you need varies on your age and risk factors. Mammograms are often recommended for women every 1-2 years.
Mammograms are they safe?
Yes, mammograms are safe and employ a minimal dosage of radiation. The advantages of early breast cancer diagnosis outweigh the hazards.
What happens if they reveal an abnormality?
If an irregularity is discovered, further testing such as imaging or a biopsy may be ordered to ascertain the nature of the problem.
Do you have thyroid health concerns and reside in Riyadh? The remedy is Thyroid Cancer Screening in Riyadh! To learn more about this important treatment, including who should consider it, its...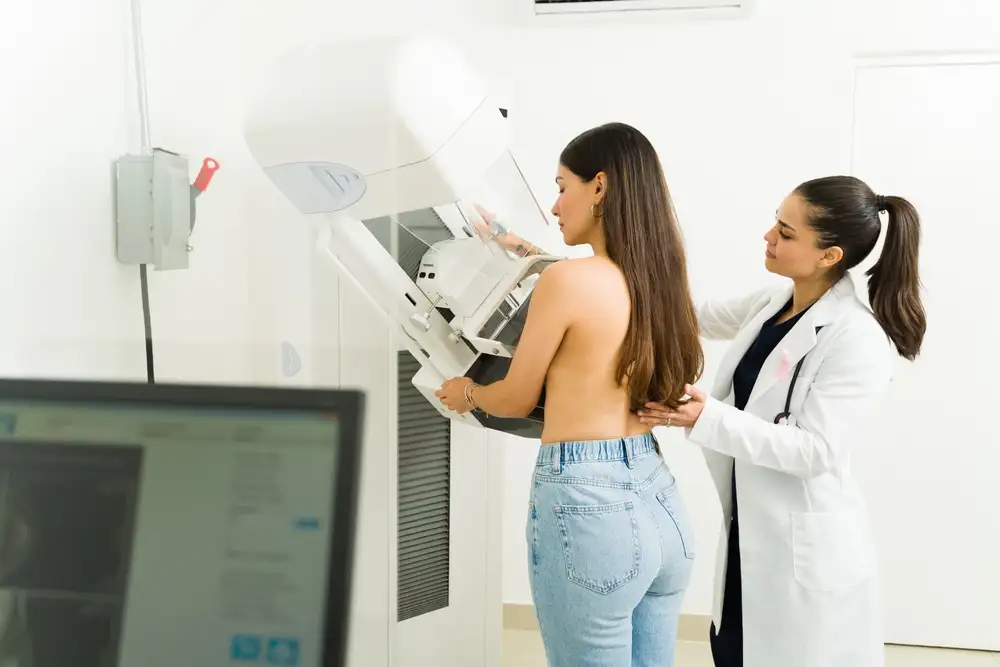 Nowadays millions of women are affected by breast cancer which makes their life hard day by day. But we can stop this problem with early detection. Regardless of what age you are, every woman...