What Is Butt Lift treatment?
A butt lift, also known as Belt lipectomy, is a procedure used to remove or reduce extra, sagging skin from the buttocks and thighs that has grown due to heredity, aging, gravity, or weight loss. The buttocks appear less sagging, dimpled, or wrinkled after a buttock lift because the skin around them is raised and tightened.
Always seek a board-certified cosmetic surgeon with specialized training and substantial expertise when thinking about a buttock lift (belt lipectomy).
Butt lift surgery can be the best option for you if your fitness and weight loss efforts haven't helped you reach your goals.


Candidates who would benefit from a buttock lift include:
People who have lost the suppleness in their buttock skin as a result of significant weight loss or aging.
People who have crinkled, dimpled, or flabby thighs as a result of inactivity or cellulite.
People who are optimistic and have realistic expectations for what back surgery can accomplish.
Those who are dedicated to living a healthy lifestyle that includes appropriate eating and exercise.
First, general anesthesia is used for patient comfort.
The incision is typically made at the waist or just below it. Excess skin and fat are separated from the soft tissue and removed after the incision(s) are done. The skin is then layered by layers pulled tight and closed.
To prevent swelling and promote the skin's natural tightening after surgery, a sterile dressing is applied, and you will wear a compression garment or elastic girdle that tightly holds the skin in place.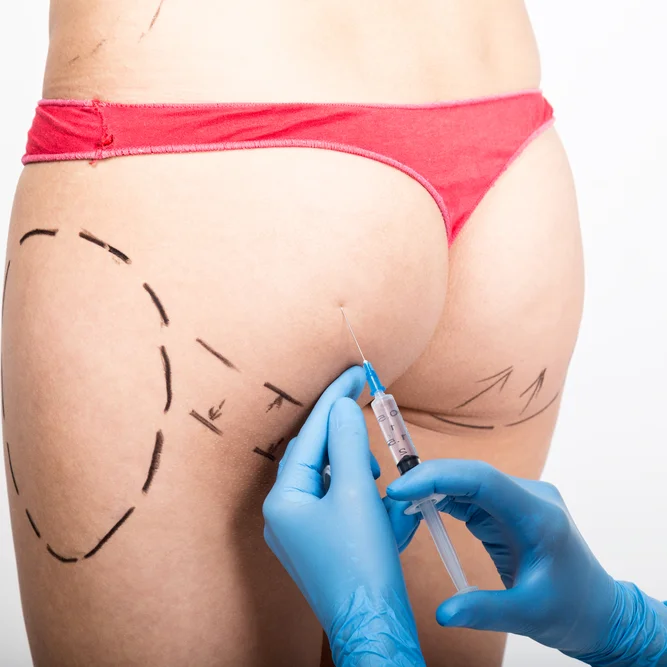 The results of a butt lift procedure are long-lasting and permanent, it could take several months for your final results to fully appear. A buttock lift can make your buttocks appear sleeker and more toned, but it won't add volume or shape to your already existing buttocks. To see the outcomes achieved by real patients, view our buttock lift before and after pictures.
The cost of butt lift in Riyadh can vary from case to case. The starting price, however, for filler-based butt lift is 2,250 SAR (+5% VAT) per 10ml of filler. Fill the form to know the right price for you!
How long do bum lifts last?
A butt lift uses fat from your own body to enhance the size and improve the shape of your buttocks. Because the "filler" is your body's fat, results from a butt lift can last for several years. It can take up to six months for results from a Butt lift to be fully realized.