What is scarless Hair Transplant?
Scarless hair transplant is also known as Follicular unit extraction. In this procedure, you get a larger area of hair on your head without leaving extensive scars on your scalp. Hair transplant patients most commonly favor this technique. FUE leaves behind little, barely noticeable scars. That way, you can get aesthetically attractive looks without the fear of scars visibility.
In this procedure, hair follicles are harvested from the head area that is genetically resistant to balding. It is also called the donor area. Each strand is harvested from the scalp using a round medical punch. That means that, as long as the overall number of follicular units is constrained, patients are typically free to cut their hair as short as they choose without suffering significant cosmetic harm to their donor area because there is no linear scar. The standard procedure for this type of hair transplant treatment is shaving the back or side of the scalp. For this reason, follicles inserted at the bald area remain in place for the entire life.
To begin with, the surgeon first classifies the scalp area from which they will use hair.
Shave the head close to the scalp.
Local anesthesia is used to numb the scalp.
A round surgical tool removes the hair from the donor area to treat the bald spot.
Then drawn hair is prepared under the microscope in specific size according to the scalp holes.
Prepared hair is inserted into the scalp hair holes with the help of needles.
The surgeon ensures these transplanted hair are planted exactly in the direction of actual hair growth.
This procedure hardly takes 3 to 5 hours to performat our hair clinic.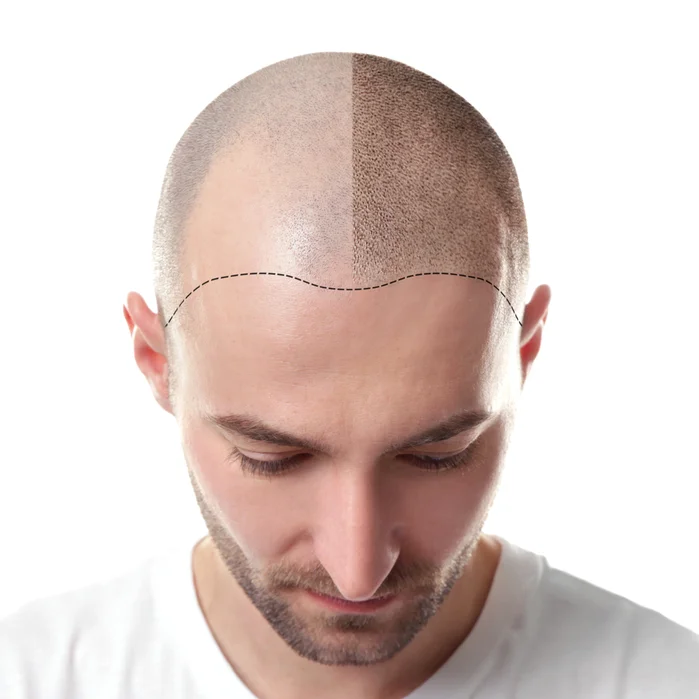 Scarless hair transplant is a less noticeable scar procedure, as the name refers. As far as the outcomes are concerned, it all depends upon the type of donor area. You will see visible results if the donor area has enough thick hair growth. But remember that the hair transplant procedure takes time to show results. After the transplant procedure, the individual will experience hair falling out, which is normal. Many people consider it a failure of the cosmetic procedure. In many individuals, observable results will take around 6 to 12 months. It honestly all depends upon the individual's genes and growth speed.
scarless Hair Transplant
Starting From
Scarless hair transplant cost can vary from person to person and from procedure to procedure depending on the number of sessions required.
In Enfield Royal Saudia, the price per session for a Scarless hair transplant typically ranges from 6,999 SAR to 7200 Saudi Riyals (+5% VAT).
How often do hair transplants fail?
The success of hair transplantation depends upon:

Professional level of surgeons
Availability of suitable instruments and procedural medicines
Use of types of equipment

Keeping it under consideration, the failure rate in unauthentic clinics and centers is around 30%. Whereas in professional clinics under professional surgeons, scarless hair transplant has a <2% failure chance.
Which is the best hair transplant method?
According to many patient reviews, FUE is the best hair transplant procedure. It is also known as a scarless hair transplant. It is considered best because of the scarless results and lower hair fall-out rate. FUT is also considered one of the successful and favorable procedures among patients.
How do you get rid of hair transplant scars?
You can eliminate the surgical scars on your head from the laser. It helps an individual to get a scarless scalp without pain by directly targeting marks, scars, and cicatrix on the scalp.
How many hair transplants will I need?
One hair transplant treatment is often enough to get desired hair on your scalp. But people can have this procedure more than once on their heads for better and thick hair growth.