Pimples typically develop where the skin's highest concentration of oil glands. In some cases, too much sebum or dead skin cells get lodged in the skin and don't exfoliate, blocking pores. Pimples develop on the outside when this occurs internally.
Even too severe acne can be treated with the methods we provide. Our skilled dermatologists can assist you in getting rid of zits by executing extremely efficient procedures on your skin. The method will be selected based on your skin type and the severity of your acne. The top seven advantages of acne treatments are,
Delivers immediate and durable results

Lowers the chance of developing permanent scarring

A non-invasive treatment for acne issues

Stops minor acne from getting worse

Also eliminates current lesions in one motion.

By addressing the underlying cause, it stops the emergence of new ones.

Make the skin look clear and beautiful by cleaning the skin's surface.
Nobody likes to have acne since it can be extremely painful and unpleasant. You can choose from a variety of cosmetic procedures to treat your acne-related problems. By removing the source of your problem, a pimples treatment can help you get rid of pimples quickly and permanently. You won't have to worry about acne scars after receiving treatment either. The most popular methods for treating zits include
Topical treatment

laser therapy

Chemical peels

Dermabrasion
Topical treatment
If your acne is mild to moderate, topical retinoids will probably be advised to you. When applied on the skin, retinoids like Tretinoin and adapalene exfoliate dead skin cells and leave you with smooth, lovely skin.
Laser treatment
Moderate to severe acne can be successfully treated with laser therapy. During the procedure, the skin is exposed to laser light to remove dead skin cells and extra sebum. Keep in mind that the outcomes are not guaranteed and rely on the patient's skin type and the severity of their acne.
Chemical Peels
 Chemical peels exfoliate the skin's damaged outer layers to treat acne. To get rid of lesions and acne, the skin is treated with a solution made of acids and other particular chemicals. This course of treatment is fast and completely secure.
Microdermabrasion
This procedure can be used to reduce acne scars and control breakouts. To remove the damaged layers of skin, the procedure uses a fine mist of crystals to spray on the skin's surface. To basically make the skin flawless and free of acne, it uses the exfoliation technique. You won't require any type of anesthesia during the painless procedure.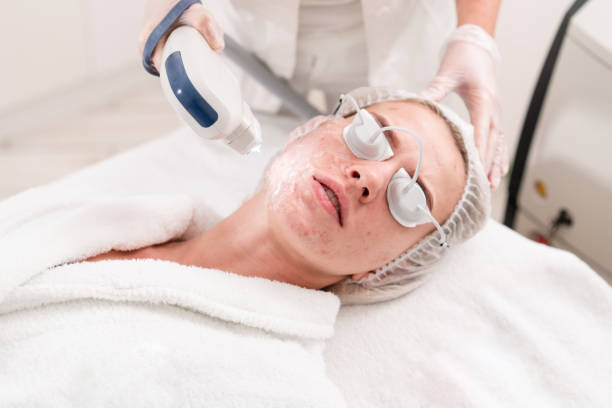 When treating mild acne, 2-3 sessions are usually sufficient, and the results last for several years. However, if you have severe acne, you may need to travel a great distance to achieve the necessary results. However, we guarantee that your skin will be completely clear and acne-free after correctly completing the course of therapy.
The cost of Pimples Treatment in Riyadh is usually determined after consultation and finalization of the procedure to be used. Fill in the form to further discuss with our staff.
Who are ideal candidates for this treatment?
All forms of acne, from moderate to severe, can be treated with Pimples Treatment. If, you are a good candidate for treatment.

You are not carrying a child or nursing a baby.

You are over 18 and in good physical and mental health. You want to treat pimples non-invasively and without surgery.

You have active, mild to severe acne.

You want to eliminate the acne problem and lessen the chance of scarring.

You have either acne vulgaris or acne meccanica.