If surgery isn't right for you, are you seeking a non-surgical way to restore your youthful appearance? You could find that nonsurgical facelifts are the best option for you! With a variety of minimally invasive procedures, you can get rid of wrinkles, tighten sagging skin, and look younger without the hazards or recovery time of standard facelift surgery. In this post, we'll examine the advantages of both surgical and nonsurgical facelifts, as well as some often asked questions and issues surrounding these well-liked cosmetic procedures. Read on to discover more whether you're interested in the most recent nonsurgical facelift trends or are prepared to take the next step towards a more youthful appearance.
What is nonsurgical facelift?
A nonsurgical facelift is a cosmetic technique designed to enhance overall look without having surgery. With this kind of facelift, your skin gets rejuvenated and is given a more youthful appearance using surgical techniques like injectables, lasers, and radiofrequency devices.
Injectables like Botox and dermal fillers can provide volume to your areas that have lost their fullness, such the cheeks and lips, while also helping to minimize the appearance of wrinkles and fine lines. By encouraging collagen formation, lasers and radiofrequency devices help to tighten and firm the skin.
If you're considering a nonsurgical facelift, it's a good idea to book an appointment with a licensed and board-certified cosmetic surgeon or dermatologist. They can evaluate your skin and recommend the best treatment options for your needs and goals.
Who needs nonsurgical facelift?
If you wish to improve your facial appearance but aren't ready to have surgery, a nonsurgical facelift may be an excellent option for you. Those who are displaying early aging symptoms, such as fine lines and wrinkles or a loss of facial volume, may find it particularly helpful.If you already had a surgical facelift and are searching for a less annoying way to maintain Your results, nonsurgical facelifts can also be a useful alternative.
It's crucial to remember that depending on the particular procedure used, the ideal candidate for a nonsurgical facelift may change. For those who have dynamic wrinkles, Botox and dermal fillers may be more effective; whereas, for those with loose or sagging skin, lasers and radiofrequency devices may be more effective.
Benefits of nonsurgical facelift
The advantages of a nonsurgical facelift are listed below in straightforward bullet points:
Minimally harmful
Without a general anesthetic
Less costly
Enhances attractiveness Individual demands can be met
Very little discomfort
What's the difference between a surgical and a nonsurgical facelift?
The main difference between a surgical and a nonsurgical facelift is the level of invasiveness of the procedures.
Invasive Procedure: Surgery for a facelift is an invasive operation that requires making incisions in your skin along the hairline and the ears in order to access and tighten the underlying muscles and tissues.
General anesthesia: It is necessary for the surgery, although it is more expensive and riskier than the local anesthesia used in nonsurgical facelifts.
Longer Recovery: In comparison with nonsurgical facelifts, surgical facelifts often require a longer period of recovery, with the majority of patients requiring at least two weeks.
More Expensive: Due to the lengthier operation time and usage of general anesthesia, surgical facelifts are usually more expensive than nonsurgical facelifts.
Higher Risk of Complications: In comparison to nonsurgical facelifts, surgical facelifts have a higher risk of complications consist of infection, bleeding, nerve injury, and scarring.
Minimally Invasive: Non Surgical facelifts are minimally invasive procedures with few to no incisions and little to no recovery time, making them a safer and easier choice for many patients.
General anesthesia: It is not necessary for nonsurgical facelifts, which makes them a safer alternative for some patients who may not be able to handle it.
Shorter Recovery Time: In comparison to surgical facelifts, nonsurgical facelifts have a shorter recovery time, with many patients able to get back to their regular activities as soon as possible.
Less Expensive: In comparison with surgical facelifts, nonsurgical facelifts are typically less expensive, making them a more attractive choice for many patients.
Lower Risk of results: In comparison to surgical facelifts, nonsurgical facelifts have a lower risk of effects, while there are still certain dangers, like the possibility of infection, bruising, or allergic reactions.
Variety of choices: You can select the nonsurgical facelift method that best suits your needs and objectives from a wide range of choices, including injectables, lasers, and radiofrequency devices.
Reversible: Many nonsurgical facelift procedures are reversible, giving you the option to change or undo the results if you're unsatisfied.
The key differences between surgical and nonsurgical facelifts, in general, are the degree of invasiveness, level of anesthesia needed, length of recovery, price, and potential for complications. While both kinds of facelifts can help to enhance facial appearance, the best option will depend on your personal goals, concerns, and the degree of skin aging or sagging.
Procedure of nonsurgical facelift
The procedure for a nonsurgical facelift varies depending on the specific treatment or technique used, but generally involves the following steps:
Consultation: A consultation with a qualified cosmetic surgeon or dermatologist is the first phase in a nonsurgical facelift procedure. Your goals and concerns are discussed during this appointment, and the doctor will then suggest the best course of action.
Preparation: In order to reduce the danger of bleeding or bruising, you may need to avoid taking certain drugs or supplements before the surgery. To lessen any pain during the operation, the treatment area may also be cleaned and numbed.
Treatment: Based on the nonsurgical facelift, injectables, lasers, or radiofrequency devices may be used. To improve your skin tone, minimize wrinkles, and increase volume, a doctor will use a small needle to inject injectables like Botox or dermal fillers into particular areas of the face. In order to promote collagen synthesis and enhance skin texture during laser or radiofrequency treatments, the doctor will utilize a device to provide controlled energy to the skin.
Post-surgery Care: You may have some redness, swelling, or bruising in the treatment area following the surgery, but these side effects usually go away within a few days. Following the operation, the doctor can give you follow-up instructions like staying out of the sun, avoiding any heavy activity, or using ice packs to reduce swelling
Risks nonsurgical facelift
Here are some potential risks of nonsurgical facelifts, explained in simple bullet points:
Allergies to substances in injectables or other medicines
Infection, even though it rarely happens with nonsurgical facelifts.
Bruising or bleeding at the location of the injection, especially if you take blood thinners or have a history of bruising easily
With some nonsurgical facelift procedures, there is a small risk of nerve injury.
Outcomes from injections or other treatments that are uneven or lumpy
Dissatisfaction with outcomes since some patients might not get the intended result.
Steps to minimize the risks
Here are some simple steps to minimize the risks associated with nonsurgical facelift procedures:
Select a dermatologist or cosmetic surgeon who is certified to do the surgery and has the necessary training and experience.
Before receiving therapy, tell your doctor about any allergies, illnesses, or medications that you are taking.
Follow all pre-procedure recommendations, which may include staying away from specific drugs or supplements that could make you more prone to bleeding or bruising.
Follow all post-procedure care advice that your doctor has given you, such as staying out of the sun, refraining from vigorous activity, or using ice packs to reduce swelling.
The dangers and side effects of your particular nonsurgical facelift treatment should be understood, and you should ask your doctor any questions you may have both before and after the surgery.
By following these simple steps, you can help minimize the risks associated with nonsurgical facelift procedures and achieve the best possible results.
Non-surgical Facelift
Starting From
The cost of a nonsurgical facelift in Riyadh, Saudi Arabia can vary depending on several factors, such as the type of treatment you choose, the number of sessions required, and the expertise of the provider. Generally, the cost can range around SAR 500 per thread.
At Enfield Royal Clinic, we're committed to making sure that every patient feels and looks their absolute best. Just a few of the reasons why you ought to pick us for a Non-surgical Facelift are as follows:
Experience.
Specialized treatment.
Superior customer care.
Transform Your Face by booking an appointment with us for a Non-Surgical Lift. Attain the best results possible and book a CONSULTATION now.
What types of nonsurgical facelift treatments are available?
There are many different types of nonsurgical facelift treatments available, including injectables like Botox and dermal fillers, laser and light therapies, and ultrasound treatments.
How long do the results of a nonsurgical facelift last?
The duration of the results can vary depending on the type of treatment used, but most nonsurgical facelift treatments last for several months to a year. Some treatments may require maintenance sessions to maintain the results.
Are there any risks or side effects associated with nonsurgical facelifts?
While nonsurgical facelifts are generally safe, there are some potential risks and side effects associated with these treatments, including allergic reactions, infection, bleeding or bruising, nerve damage, uneven results, and dissatisfaction with the outcome.
Will a non-surgical facelift make me appear overdone or unnatural?
The fact that nonsurgical facelifts can provide subtle, natural-looking improvements is one of their advantages. You can attain a youthful appearance without being overdone or false with the assistance of an experienced dermatologist or cosmetic surgery.
As we age, our skin loses its elasticity, leading to sagging and wrinkles. One way to combat these signs of aging is through a facelift, also known as rhytidectomy. A facelift is a surgical procedure that can help...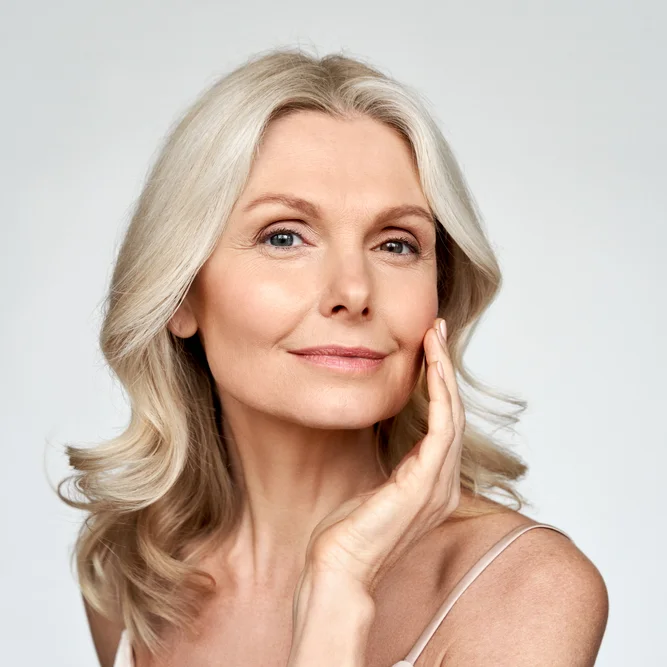 Face rejuvenation is a cosmetic treatment that improves the skin surface and aims to restore a youthful appearance. It delays aging and restores facial features. They are used to treat wrinkles, dark spots, and scarring. It will...